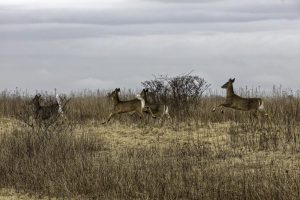 This past winter has cast upon me the challenge to continue my growth by both studying and practicing the art of photography.  I have done this with surprising gusto because I did not think it within me. Anyway, I revisited Vincent Versace's arduous method of producing photographs for "fine art" printing. Vincent's knowledge of the field has been a guide worthy of a king's ransom. But, for this poor soul at this stage of my life, I find it far beyond my capabilities and aspirations. However, I have adopted his many insights as an ideal to be aspired to and then use these as a measure to adapt to the current capacities I possess.
In counterpoint to Vincent I have also been studying the method of practical photography by Bryan Peterson whom I find as equally adept at creating worthy photographs of the lived world. Bryan's techniques are capable of being easily utilized in one's own work flow, at least in actually taking the photograph without any attention to post-processing (in other words, taking a great photo before all else).
This dialectic has left me in the creative tension of trying to choose what best works for me and yet produce the best possible photo I can of a particular situation.
That being said, (i.e., the studying part), I have also met the challenge of getting outside this winter to shoot in conditions with are winter-ish. I must say I am proud of myself, and have actually enjoyed the experience of living on the edge of endurance (a wonderful aside is that it has allowed me to feel completely alive as I used to feel when I was younger and facing the elements).
All of the above leads to the point that I am trying to make. Both of the posted shots are critical existential moments of movement of wild life, i.e, deer running to escape something, and a hawk trying to find a meal. Both of these moments actually occurred in split seconds of the moment, meaning I had to absolutely have the right settings in my camera and the camera had to be responsive to my needs to capture the in-focus, properly framed shot.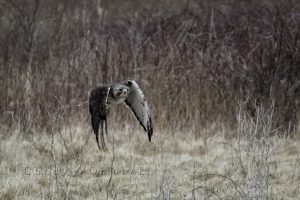 I almost had it! That was my conclusion. Both of the posted shots were hand held and rapidly captured based on subject movement. I thought I was on automatic focus, but there clearly was not a really sharp image captured in both situations. Maybe the subjects were moving too quickly. Maybe not. My point is: You must have responsive equipment based on what you are trying to capture. You must allow for the elements (heat, cold, moisture, fog, light, etc). You have to be ready with your settings based on your anticipated need.
The first photo was taken at Sachuest Point National Wildlife Preserve in Rhode Island at a split second when the deer suddenly appeared. It was taken with a Canon 5 DS, EF100-400mm f/4.5-5.6L IS II USM @ 255mm,  f/11, 1/640″, ISO 1000, DxO Optics Pro 11, ACR, Photoshop CC2018.
The second photo is of a Red Tailed Hawk taking off from a field directly in my direction. It was taken with a Canon 5 DS, EF100-400mm f/4.5-5.6L IS II USM @ 400mm, f/11, 1/640″,  ISO 2500, post processed with ACR, DxO Optics Pro 11, Color Efex Pro.