Of late I have been concentrating on the technical aspects of photography, but I know in the back of my mind that whatever is worthwhile doing involves creating spirit and soul. In other words, you must have the contents of a great shot before you can record the details of it. Obviously, this is a truism. But I posit this simply because some times the contents of a great shot is captured with details that are not technically good or aesthetically captivating.
Such was the case when I attended the Championship AFC game in Foxboro, MA on January 22, 2017. The weather conditions were terrible (wind driven mist in the mid-30s) but I persisted to capture the emotions of the moment.
The two shot here posted are the pre-game (notice the different ways players/coaches deal with this anticipation) and the post game emotions of relief and thankfulness of a successful victory.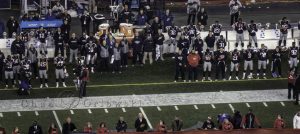 Again the Spirits of Winter (whether they be called Jack Frost, Old Man Winter, Father Frost, Snow Queen, Calleach Bheur, Frau Holle, or Boreas) have visited this New England Homeland of mine, and considering the times we live in, with the uncertainty of the future cast upon us with the Election of our current President, I have sought relief.
A musical refrain from the Rolling Stones, namely "Give Me Shelter," has combined with the mood of this Darkest of Winters, to caption this title to this Post.
Luckily, one of the Guardians of my Psyche has provided some Salvation in the form of focusing on Relief. That Relief has taken the form of the New England Patriots whom I have found is a most unusual entity. The team/organization embodies many values which may be considered old-fashion (like work hard, unselfishness, loyalty, community-mindedness) but yet has allowed a team to be formed by a Zen-like coach (Belichick) to produce successful seasons that no other team can match. So, such a positive entity shines out in the gloom of this most dire of seasons. This is a blessings cast upon me which I cannot resist.
How does all of this relate to photography? Very simply. I attended the AFC Conference Championship Game in Foxboro, MA between the Patriots and the Steelers a few days ago. The game was at night in weather conditions which were challenging, to say the least (38°, 20 mph NE wind, drizzle). On top of that, I was located on the third most tier of the stadium. Fortunately, I was favorably angled at the 30-35 yard line.
I contemplated bringing my pro camera (Canon 5DS) but thought it might be rejected by stadium security. So, I relied on my Canon G3X, which, all things considered, proved adequate to the location and conditions.
While the speed of taking shots did not compare to the Canon 5DS, the G3X did respond well. The telephoto range (600mm) was reason enough (and in a compact profile easily carried in the craziness of a game crowd) to have it. But the G3X did provide enough responsiveness, sharpness, and ease of use to make it an essential tool in what may be called a "combat situation."
The currently posted photo was taken in a series of separate shots with the Canon G3X, f/8 @ 394mm (35mm equivalent), 1/200″,  ISO 1600. Post processing was done with Color Efex Pro 4, Camera Raw, Photoshop CC (Photomerge).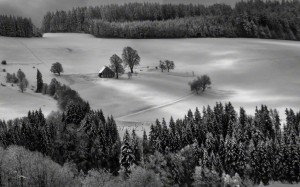 The title to this post is not as enigmatic as it appears. It is in the flavor of my recent posts of light and darkness, black and white. In my just finished visit to the Rhine Valley I was fortunate enough to catch a spring snowfall on the very morning that I was approaching the Black Forest (viz., Der Schwarzwald). This was such a contrast in not only the visual but also the experiential terra firma where the unexpected was suddenly upon us.
Unfortunately, I was in a bus traveling along a narrow road with magnificent scenery around me. I was spell-bound, but I wanted to take a picture to capture this transcendent moment. My first impulse was that it was not possible traveling in a bus with a camera that was not my best (simply a small tourist camera), but my wife stated emphatically, "Yes, indeed, take the photos!"  As an obedient spouse I compiled, not having much hope of success.
Needless to say, my wife was right. I was able to salvage several quite extraordinary moments. Whether these moments translated into good photos was another matter. This photo of a farm on a mountainside in the midst of a sudden spring snow storm is my attempt to relay a very transient moment. On reflexion, this appears that many great photos are all about these transient moments (hence, "in transit"), that try to capture the ephemeral but also the equally eternally transcendent.
The shot was taken with a Canon Powershot G3X, 24 mm, f/8.0, 1/800, ISO 125, enhanced with DxO Optics Pro, with tonality adjusted in Photoshop.