Catching Opportunity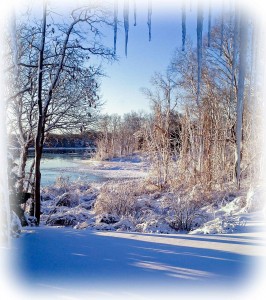 Since my last post snow has arrived on the cove. The photo on the right is actually from mid winter 2012-2013, but it is added now in the spirit of the season– Christmas and all.
This is an iPhone 4 shot, and is far from as sharp a photo I really would like to have taken. But, the iPhone was easily available to capture this opportune  moment in early morning. I find most of my iPhone photos to lack crispness. I may have a problem with technique, but often I feel it is that the lighting conditions just are often not conducive to the settings on the iPhone.
As with my last photo post I used Perfect Photo Suite 8 to enhance the shot. I'm finding that PPS works best for me as a standalone program rather than a Photoshop add-on (i.e., used from within Photoshop). Often I have a difficult tome figuring out what module I am in in PPS, and what will be saved after I experiment with different effects, etc. I also wish that PPS would be a bit more precise in saving what effects and enhancements I used when I return to previous levels saved by PPS; rather than just stating "Enhancement" for a level, for example.