Transition or Transformation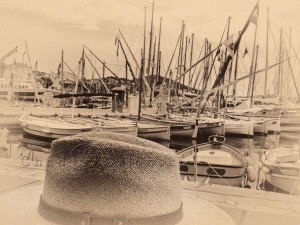 The year has been productive as far as changes within my style and understanding in what I am doing with photographs. It's been an interesting display, for me, at least, between the right and left sides of my brain. The right side seeking form and creativity, and the left side begging for order and direction. Luckily there has been an amicable compromise between the two and my shooting and processing has taken on more of a creative direction, which was aimless in the recent past.
I have revisited several of my photos of years past and have tried to look at them afresh and see what I would do with them in my current state of creative flux. The current post is of Sanary-sur-Mer, France  where I was dining at the time a few years ago. Of course I had on my de rigueur  Panama hat which I bought in Sorrento, Italy, so I felt quite International (although I doubt this is how I actually appeared).
The south coast of France on a sunny late Spring Day. This is what I imagined I wanted to capture in my photo. I had tried to do this in the past and had failed, but with my last attempt I believe I came close to the mark, if, nothing more than with nostalgic, halcyon type of overtones.
The photo was taken on a Canon 30D, 24-105mm, f/4L IS lens @ 24mm, f/22, 1/400, ISO 1600. It was an unusually noisy and dirt prone camera which I have since parted company. However, I always wanted to capture that special sense of place there in France at the sea port. This I believe I approximated using DxO Optics Pro 11 and Nik Silver Efex Pro 2 (Antique Plate preset) in post processing.