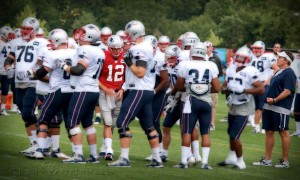 It's that time of year that my thoughts turn to football. That's not to say I do not follow it during the rest of the year, but I try to put it into perspective and try not to have it dominate all aspects of life as the NFL may seem to want at times.
This photo was taken in the middle of summer during Patriots training camp. Apart from the fact that I am amazed how anything as complex as professional football is and how completely chaotic it appears to a casual observer in the stands and then how the team comes together when one of the coaches blows the whistle, I enjoy the training camp venue simply because I can get probably as close to the team now than at any other time of year.  And we all know that for a photographer this proximity is important.
Even though I am close to the practice field during training camp I use my Canon 70-200mm L lens. There is a lot of motion but the summer daylight allows for a faster shutter speed at various aperture settings. Often I wish my angle could be different, but due to the restrictions placed on the fans in the seating area, I have to make do with straight on shots. One way I try to compensate is by depth of field manipulation or special effects in Photoshop. In this shot I again used Perfect Photo Suite 8 to bring out the fact that despite apparent chaos, there are controlling forces (Bill Belichick) and quarterback (Tom Brady) that bring order to everything.