This post of a most beautiful and dramatic place, namely Lucerne, Switzerland, is offered as a challenge. You see, Switzerland has always held an exalted place in my subconscious for  the purest and most unspoiled place on the planet.  The photo is of Mount Pilatus taken from the city of Lucern on a day of dramatic weather changes,
occurring in early May with a Spring snowstorm.
I had planned to ascend Mt. Pilatus on this day but Nature thought otherwise. So, I stayed in Lucern and was content to view it from afar, simply because if I had ascended Mt. Pilatus I would have been in a fog or snow storm without any vision at all. The best I could count for my stay in Lucern was this photo from across Lake Lucern, which, when one thinks about it is not that bad. Of course, or unless one realizes that the dramatic view could have been increased a hundred-fold if one were at the top of Mt. Pilatus itself.
The photo of Mt. Pilates was taken with a Canon Powershot G3 X, 126.4mm (344mm, 35 mm format equivalent), f/11, 1/320, 125 ISO, using DxO Optics Pro 10, and Photoshop for post processing.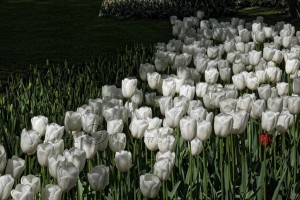 On my most recent trip to Europe down the Rhine Valley in the spring, it would have been remise not to visit Holland in all its glory, namely tulips in bloom in aeternum. This I did with my wife, and the whole experience was a bit overwhelming in many ways. For approximately two months this area of Holland, specifically Keukenhoff Gardens is visited by millions of world travelers. That means if one is interested in photographing tulips, these shots will inevitably have people in them. That is the challenge I faced.
Secondly, the size of the gardens and arrangements are beyond description, either visually or in words.
Some luck was on my side, since I was at the gardens in the early part of the day. There were people but not the crowds which amassed a couple of hours later.
The challenge was also before me of the particular light of the day. Sometimes harsh, but not always. I was constantly looking for that window or edge of soft light. Hopefully in the photo I approximated that special sense of beauty which is called Keukenholl — Holland in Bloom.