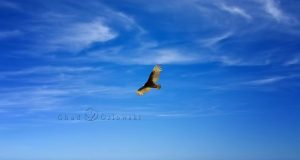 The title to this post is meant to be interpreted simply, namely, describe the ad hoc or even de factor act of creating something. Naturally, it is not creating something from nothing (even in the extend sense of that word), but the act of combining elements to make a new presentation or composition of something.
In photography this is called compositing (creating a compo), and I have stayed away from this type of post-processing, simply because it is an art unto itself, and I wanted to get into the act of capturing what creation presents before my camera and lens. This was difficulty enough of a task for me.
Although recently I have relented and attempts to create a combo. You see, I loved the sky in one photograph and in another photograph I love the main element (the condor) and not the background (the sky). So, I wanted to meld the two to create a blend of the best.
The current compo in this post was created thusly: Both photos were taken with a Canon 30D and 24-105mm f/4L IS USM lens. The sky was shot off of Chatham Lighthouse Beach on Cape Cod, f/4, 1/5000, ISO 800. The condor was shot in Key West, Florida, f/14, 1/100, ISO 100. The actual compo was processed with Nik Color Efex Pro.