There still is life in this body and this blog. The exigencies of surviving winter trumped all other interests including posting to this blog. Let me explain.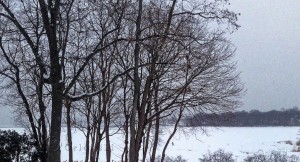 It was a terrible winter. Since arriving in New England 36 years ago from Wisconsin I used to laugh at the responses of locals on how terrible the winters were. In short, they were nothing in comparison to those of the Midwest. However, this past winter made up for all previous 36 winters by being the winter-from-hell, if that could be fathomed. The snow was constant from February on, and the temperatures were routinely in the teens or single digits, as meteorologists are fond of saying.
I tried to take photos but the body was not conditioned for it. What shots I took were not worthy even to be tossed into the waste basket—shivering has a way of destroying sharpness.
The first photo in this post was taken with my iPhone after sunset. Oh, by the way, it was snowing. It is of a lone soul skiing across Occupessatuxet Cove. The Cove was frozen from February to the beginning of April—quite a feat since it is salt water. As bad as it was in Rhode Island, Massachusetts and Boston were even worst.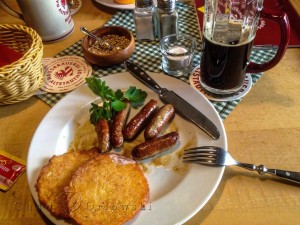 The second photo is of the breakout, my take on surviving the Winter That Was. It was taken in Nuremberg, Germany, in one of the many local restaurant pubs which had wonderful German food and beers. In this shot there are Nuremberg Bratwurst and potato pancakes, plus the obligatory beer, in this case a doppelbock from the local brewery next door.
Photographically, there is not much to talk about since the best camera available was the iPhone. The winter shot is grainy due to the low light; the second shot is delightful in its own right due to its mere content.