During this historic Covid-19 Pandemic it has been a chore to maintain any semblance of normality regarding usual daily routines. Basically, what is foremost in the minds of Rhode Islanders is to stay ALIVE and HEALTHY, despite what the so-called president and the rest of the nation is doing. I am proud to be a Rhode Islander and a citizen of the 13th State, and commend our Governor, Gina Raimondo, on her job of keeping us healthy and functioning.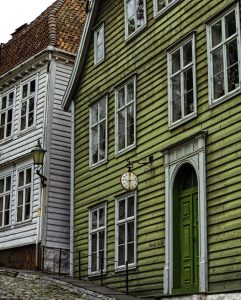 That being said, one of the major focuses for me during this Covid-19 self guaranteeing has been to increase my photo skills. Luckily, I have been able to do this having John Paul Caponigro's instructional DVDs to learn from. I wish I had discovered them ten years ago or longer for they have really sharpened my understanding of the process of and practical application of photographic techniques.
Since I am a Johnny-Come-Lately to this area of artistic expression in photography, I've had some catching up to do, but I do the best I can considering my handicaps. While my photos have improved, relative to what I had been doing, they are still a long way off to where I would like to take them—this zone of uncertainty is both confounding and energizing for I have to discover exactly where I want to go with my photographs. But, that is where I am at, at this particular junction of creative expression.
The currently posted photo is of Bergen, Norway in an historic area of the city. I tried to capture the atmosphere and style of the city lines and colors. The photo was taken with a Canon 5DS, using an EF24-105mm f/4L IS USM lens @ 65mm, f/8.0 @1/500, with an ISO 125, post processing with DxO PhotoLabs2, ACR, and PS 21.2.
This title is somewhat apocalyptic but as a photographer it is realistic in so far as some photos make the cut and some do not. In the process of culling photos to be or not to be acceptable, I try to save as many as possible by looking them from as many perspectives or artistic angles as possible, given my God given talents.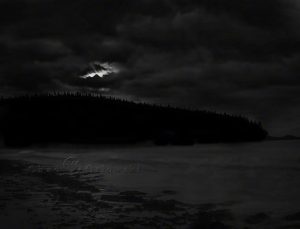 I believe that the currently posted Blog photo had merit and I tried to save it, but alas, I know I did not. I simply did not capture the essence of light that was present at the moment of capture, and consequently did not have enough pixels to work a miracle.
This photo was taken in my Autumn Adventure into Maine á la Caponigroland. Up before dawn, and with little light, I tried to capture those magical moments with a mechanical camera to try to match my living view of what I was experiencing. Alas, as in most cases, I did not achieve my goal.
At some point all of the incredibly myriad amount of  details will collalese into a perfect photo that I will have command of and I will have the perfect photo of what I see. That is what haunts me and propels me to continue shooting.
The currently posted photo was taken at Sandy Beach in Bar Harbor, Maine., with a Canon 5 DS camera, EF16-35mm f/4L IS USM @35mm, f/8, 18″, ISO 50. Post processing was done using DxO Photo Lab 2, ACR, Viveza, Efex Pro, Photoshop using a Gradient Map, and adjustment for lighting and banding.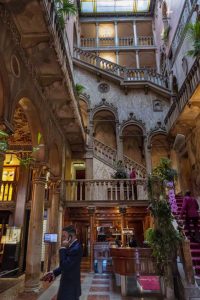 The visions of my visit to Venice in the fall of 2018 still haunt me. There are so many moments which live in my visual memory that I was unable to give substance to as far as a concrete photograph. Maybe this is the intentionality that was spoken of in philosophy of previous decades. That is, my mind intending and capturing the world (or object thereof) and trying to give meaning or form or some kind of representation to it. In other words, to capture this reality in some concrete form that the mind perceives in so-called immaterial ideas.
The above tries to describe the process of me trying to take a photo of a unique experience and then translating this into a printed form, viz. photograph. The great photographers have successfully accomplished this process from what their mind's eye has seen to what exists in their photographs. Every other aspiring great photographer is trying to imitate this process.
Venice was so unique and visually stimulating that it leaves one overwhelmed.
When in Venice I attempted to accommodate myself to its challenges, namely time of day, crowds, time pressure, unfamiliarity of surroundings. In other words, hit or miss "tourist photography."
The posted photo provides somewhat of a counterpoint to the maddening crowd of Venice. That is, the quiet and calm of one of the finest hotels in Venice, Hotel Danieli. The hotel exists in the heart of the most intense tourist activity of Venice, i.e. right off the Riva degli Schiavoni.
[As an aside to my above post, I must note that in viewing one of Kelbyone.com videos, I was struck by the fact that it was filmed at the Hotel Danieli. Be that as it may, it is nice to know that my membership fee in KelbyOne pays for this type of corporate benefit.]
In any event, I am pleased to a degree that I was able to capture Calm within Chaos in Venice.
The posted photo was taken with a Canon 5Ds, with a EF24-105mm f/4L IS USM lens @ 24mm, f/6.3, Exposure Compensation -1.33, 1/50″, 6400 ISO, post processed with DxO Photolab 2, ACR, DxO Nik2018 Viveza 2, and a Gradient Map.