The other day (mid-April) I decided to further refine my photo skills by doing some scouting for future photo adventures. I did this rarely in the past but have come to see that it is an essential part of setting oneself up for successful photographic shots. [I am trying to develop this skill.]
I ventured to Beavertail, RI which sits on the very tip of the Jamestown Island at the mouth to Narragansett Bay. It is a dramatic location since it gets the full brunt of the forces of nature (wind, waves, and climatic extremes). It is the location of the Beavertail Lighthouse, which was the third lighthouse established by the 13 Colonies in the 18th Century, being known then as the Newport Light.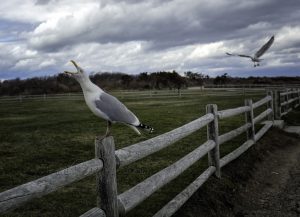 I have often visited this spot over the last 30+ years for in an odd way it is quite meditative.  One of my physicians who has photography as a hobby had taken a photo of this lighthouse many years ago in a winter snow blizzard. It is one shot I would like to have had a chance to take. As it goes, the location presents opportunity for many great shots, but the challenge is to meld the elements with the lighting conditions which the landscape presents.
I had taken several successful shots over recent years at this location but one type of shot has been eluding me, namely that of the Galactic Core of the Milky Way with the Beavertail Lighthouse in the foreground. The problem is that the Galactic Core requires a long exposure of 25-30 seconds but in doing so the light of the Lighthouse renders this impossible. I naturally would have to take a shot of the lighthouse in good lighting and meld this with the Galactic Core. But, the crux becomes how best to take the shot of the lighthouse to properly blend the lighting conditions with that of the dark night sky. My latest solution is to try to use a neutral density filter near sunset to approximate the light that may occur at a darker hour when the Galactic Core is captured. Stay tuned.
The current photo is a gratuitous one for while I was scouting Beavertail in weather condition which were not friendly (temperatures in the lower forties with 20 mph winds) a gull appeared just in front on me (4-5 feet away probably thinking I would have a slight morsel for it). I took several shots to capture the capriciousness of nature's elements and life forces. The photo was taken with a Canon 5 DS, EF16-35mm f/4L IS USM @35mm, f/4.0, 1/500″, ISO 100, post-processed with DxO Optics Pro 11, ACR, & Nik Color Efex Pro.
It's been a short hiatus in writing to this blog, but it was a productive period beyond what is visible in this media. That is, I have been involved in the real chores of life, as in taking care of our house that Spring has come. That means cleaning, maintenance and refreshing what nature has a way of reducing to the common elements of life. In other words, the chores of life have taken precedent to this Blog.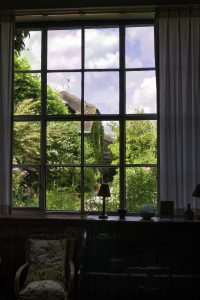 That does not mean that nothing has been occurring within this photographic soul, just that it has not been communicated.
My main energy has been to try to master Greg Benz's wonderful Photoshop Extension, Lumenzia. I have found this task challenging, since the extension encompasses many of Photoshop's most complex features. That means I have to understand the Photoshop feature before I understand Greg's use of it in Lumensia. That is okay. But, it still is time consuming and challenging to a degree which tests the limits of my skills. However, I am proceeding, but at a reduced rate of accomplishment.
Be that as it may, I offer the currently posted photo of my use of Greg's Lumensia in a shot of Monet's Garden in Giverny, France as seen through his house window. The story behind this shot is that it should never have occurred. That is, I was prohibited from taking any photographic shot within the house; I did not realize this; and seconds later was abruptly notified of this fact by an attendant (who obviously was not that attendant).
The photo was taken with a Canon 30D, EF24-105mm f/4L IS USM @ 24mm, f/22, 1/125, 1250 ISO, post processing with DxO OpticsPro 11, Lumenzia, & Color Efex Pro.
[By the way, the title to this post is explained thusly, baseball is the sport of spring and summer, which it currently is. And, baseball being a game of finesse, is placing the little ball just rightly, and hitting it just rightly. Such are the similarities between baseball and photography, since one must get the the shot captured just right, as far as timing, aperture, sensory speed, and composition.]