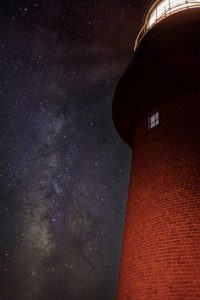 Indeed, the obvious fact is that the last post was four months ago. I will not bore you with the details but it was a busy four months with spring yard work, planning and completing two two-weeks vacations in the Baltic and Martha's Vineyard, as well as simply doing the daily routines.
I had visited Martha's Vineyard several times before and was inspired by both land and sea scapes, with some good photos forthcoming from these visits. However, this past July I had the opportunity to actually rent a seaside cottage among the sand dunes on the north shore of Aquinnah, providing such easy access to the beach and shore that I felt that I was a denizen of this idyllic place.
Wild life was abundant and everywhere, particularly all sorts of shore birds, deer, rabbits, and while I did not catch fish, there were signs of their presence due to multiple fishing boats of all sizes as well as people surf fishing. The surrounding air and sea breezes in conjunction with the special light of this island punctuated the fact that you were in a special place full of wonder.
Energized by this atmosphere I was constantly out and about shooting photos. So much so that I made four night and early morning excursions to catch the Milky Way, moon, and the early morning golden hour. I will speak of these in forthcoming posts.
The currently posted photo is of Gay Head Lighthouse captured after midnight. I had scouted this out earlier in day visits using Photopills, so was confidant that the resultant shot was possible. My wife insisted on accompanying me, which I accepted simply to have company and some assistance in setting up in the dark. My wife's company serendipitously helped create this shot, for she had unwittingly provided some light painting of the lighthouse with a red light flashlight. The shot was taken with a Canon 5 DS using an EF16-35mm f/2.8L USM lens at 31.0 mm, set at f/2.8, 25″, ISO 3200, with post processing using DxO Photo Labs II, ACR, Photoshop CC 2019 with a gradient map, enhanced by Nik Viveza & Color Efex Pro.
I mustarded all the energy and creative drive within me to go out on a mid-winter's night to an island in the middle of Narragansett Bay to try to photograph a panorama of the Newport Bridge under the arch of the Milky Way. I had used the app PhotoPills to determine that the Milky would indeed be in this position as it had been. The trouble was that I was shooting to the northeast from Jamestown, RI Center which naturally had the background of Newport and the U.S. Naval Base which was brightly light affording a ton of light pollution to my ill-planned shoot (since I thought this would not be that much of an issue). It was!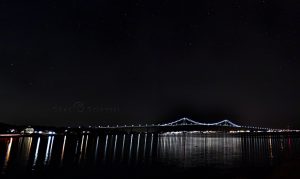 The other fact of my failed photo shoot was that I was shooting at c.2:30 AM with a 15º temperature. I thought I was well dressed for the elements, except I underestimated that my hands (not gloved) would be exposed for over an 1 1/2 hour time period. Needless to say, I panicked (to a degree) at that time (at the end of 1 1/2 hrs.) since I did not have any strength in my hands. Luckily by that time I had retreated to my car but still had trouble retrieving the car keys from my jean pocket.
Lesson learned. Do not underestimate the elements, as well as, pay attention to the shooting environment of your target figure (in my case, the light pollution of the city).
This posted panorama was taken with a Canon 5DS, using a Canon EF16-35mm f/2.8L USM @ 25mm with an f/2.8, 20″, ISO 160. These settings are a bit out of the ordinary for shooting the Milky Way but I was trying to adapt to the light pollution. So much so, that I even used a graduated 3-stop neutral density filter to deal with the light pollution. Post processing was done with DxO Photolab 2, Adobe CR, and Color Efex Pro 4.
Addendum: The photo above does not show the Milky Way simply because of my camera settings. At the very least the ISO should have been 3200, and a shutter speed of 20-30″ to capture the stars. I somewhat captured the bridge but at too great a cost of a successfully planned photo. In other words, details matter.
Since coming back from my most recent journey to Portugal and the Douro River Valley, life has presented to me many personal challenges, testing my resolve on a day to day basis. Without going into detail these issues have resolved themselves and approximately a month later I have been able to spend more time on photography.
Portugal had left me disappointed in not only opportunities to captures shots, but also in my photographic technique in shooting. I had regressed in not being atuned to the technical aspects  (basic things as aperture, ISO, shutter speed, good posture for sharp photos) and I was lazy in this regard. One could argue that I had other things on my mind, as I had stated in my last post that simply shooting on a regular European tour presents a myriad of challenges not to be taken lightly.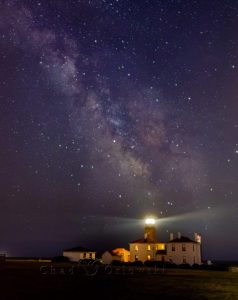 In any event, I knew I had to bone up and get back into photographic shape. I have tried to do this over the last week or so by attempting to photograph Beaver Tail Lighthouse (which was the third established lighthouse of the original 13 Colonies). It sits on an "island" (or peninsula) of Jamestown, RI. Needless to say, it is a remote area sitting far out away from the mainland and presenting an atmosphere where one feels attuned to the ocean, sky and elements. In other words, it is a special place of nature. However, it presents challenges since the lighthouse is quite bright in revolving (approx. 5″ on, 2″ off). Also, there is some light pollution, especially at this time of year (summer) since the Milky Way (my object of focus) sits in the SE sky where some light pollution exists.
I had tried photographing the lighthouse in the past and was disappointed since the light was too bright. I quickly realized I had to modify my technique. I had been strategizing on this over the last few months, and finally decided that I needed to just go out and shoot the dame thing. I did so the other night under conditions which I thought were perfect. The previous night I attempted to do this but the bugs of summer (July) were a bit much. So, the following night I put on my hiking bug resistant clothes and bug spray and tried again. It was quite a change since there was a stiffer breeze, clear skies, and moderate temperatures, so an enjoyable evening c. 11 PM presented itself to me.
It became apparent to me that I had to improvise on the basic procedure of shooting the Milky Way (I felt I understood the basic technique after shooting Kilauea Volcano in Hawaii at midnight last year). I used two techniques: 1. that proposed by Starry Landscape Stacker, and 2. the basic starry night technique  (c.25-30″ exposure, f/2.8. ISO 3200) but this time placing my hat on the lens when the lighthouse light turned towards me (c.2″). Both of these techniques had produced acceptable photos. I then tried using SLSS to process the "hat technique", and the results were also acceptable.
My gut told me, though, that I should simply use the basic technique, and that is what the current post is. That is, the shot was taken with a Canon 5DS, EF16-35mm f/2.8L USM @ 23mm, f/2.8, 15″, ISO 3200, post processed with Adobe Camera Raw, DxO Optics Pro 11, Nik Color Efex Pro.