While I still have not discarded the regret of not capturing my pre-trip imagined images that I would have taken (and, did not), I've come to the realization that that goal was quite difficult to achieve. Let me explain. The Italy trip that I had taken proceeded from northern Italy (Lake Como) to southern Italy (Sorrento) with intermediate stops in Verona, Venice, Ferrara, Florence, Siena, Montepulciano, Assisi, and Rome. All of this occurred within 14 days. On hindsight, this is a lot of geography packed into a short time period. Couple this with the fact that this was not a dedicated photo shoot(s), but a tour of over 30+ people with other interests other than photography.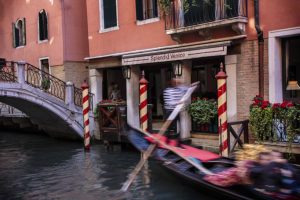 What the above tells me is that this recent trip was essentially a scouting vacation which exposed and allowed me to be able to zero in on future trip(s) to more adequately capture the spirit of Italian Wonder.
One of those future trip(s) definitely would be Venice, with Florence, Assisi, and Rome not far behind. Also, let's not forget Positano, as well as, Puglia. All of this is a great segway to the fact that Italy runs deep and true in its beauty and soul.
Venice, though, is the most visibly obvious example of Italian uniqueness and beauty. There is a draw and enchanting allure that defies expression. For myself, I want to explore and discover that vacuous spirit which seems to linger and then vanishes. I want to capture its uniqueness and passing presence.
The currently posted shot of Venice was taken with a Canon 5DS, using a EF24-105mm f/4L IS USM lens @ 47mm, f/8.0 1/5″, -0.67 exposure compensation, 100 ISO, post processed with Adobe Camera Raw, Photoshop CC using a Gradient Map, DxO Nik Color Efex Pro 2018.