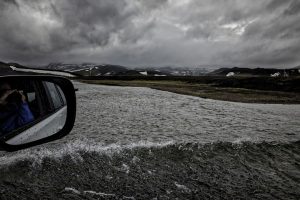 In an attempt to describe the awkward state I am in photographically I am using William Shakespeare's Line from Richard III in my title. What I mean by this is that while I have come off a productive period of growth in taking photographs this past year, I am stalled by the forces of nature. At an advanced age of 69 years the body becomes sensitive to elements of cold and heat it was not prone before. In December 2016 the winter so far has been cold with many days of unrelenting winds.
So, in a real sense I am captive to the indoors and to my fantasy and musings.  But, I have a plan. Come June 2017 I have planned to take a Canon Destination Workshop in Hawaii  on the Big Island. It is my "come back" to the forces of nature. It is a  five day workshop of taking photos  of volcanos, the milky way, tropical gardens, and multicolored beaches. In addition to this I'll be spending ten more days on my own visiting two more islands.
The currently posted photo is of Iceland taken this past July (2016) while crossing a stream on a so-called road in the south central part  of the country, namely Landmannalaugar. It is a region which, no doubt, has beauty and form but it escaped me on this day of cold, rain, and wind.
The photograph was shot with a Canon 5DS, Ef24-105mm f/4L IS USM lens @ 24mm, f/16, 1/400″, ISO 800.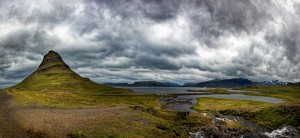 This is an image of Kirkjufell Mountain, west of Grundarfjordur, in Snaefellsnes, Iceland. But it easily could have been from J.R.R.Tokien's mythological land of Middle Earth or using his language from the myth, Endórë, because it presented as quite alien and unusual as compared to the work a day world in which we all live.
My recent adventure to Iceland in July was productive albeit challenging due to the weather. Because of the many water falls, volcanic activity or remnants of it, and the utter ruggedness of the countryside, there were multiple opportunities to capture winning photos, of which I did. Since that time I have spent time learning new post-processing technique to let my original raw photographs come to life.
This present posted photo is obviously a panorama, shot with a Canon 5 DS, a 24-105mm L lens, at 24mm, f/16, 1/640, and ISO 800. Post-Processing was accomplished with DxO Optics Pro, Adobe Camera Raw, and Photoshop.