The last month or so, despite an absence of blog posts, has been a productive period for me. Time has been spent focusing on skill development of post processing of black and white photos (à la Vincent Versace). Several series of photos from France and Italy I revisited, and tried to re-imagine them through Vincent's eyes. It was a slow process of trying to acquire an understanding of light and contrast as well as what I really wanted in a scene. The path was not always clear but I trudged onward,  nonetheless, knowing that progress had to be made, despite my uncertainty on what lay before me.
On the way to understanding black and white I actually discovered that I was beginning to understand the technical aspected of photography itself better.  For example, the importance of pixel count, bit depth, and how to use photoshop more efficiently and fully (i.e., channels and blending modes, not to mention finally feeling more comfortable with curves and its power).
There seemed to be an interplay within me of technique and style, and how advancing in the discovery of one leads to a better grasp of the other. This is somewhat abstract, admittedly, but it was a growing experiencing I am trying to document.
The photo in this post is of the Côte d'Azur (French Riviera) seen from the Rothschild's Villa and Gardens. It is a truly idyllic location of tranquility and beauty. It was taken on my old Canon Eos 30D (a very noisy and dust prone camera), using a 24-105mm L lense. I converted the color photo using Photoshop Gradient Map adjustment layer as well as On 1 Photo 10 for Vignette Effects.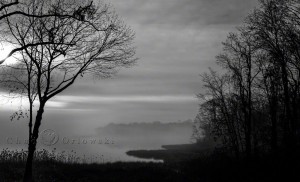 This enigmatic blog title is from T.S.Eliots's poem of the same name. It has always resonated for me since I am committed to the dynamic nature of the way life presents itself; namely, in a series of apparent contradictions in an attempt to show us the sheer complexity of itself.
Enough of philosophy, though, and on with photography. Oh, but by the way, an encapsulated meaning of the poem (not doing it real justice) is, as Eliot states, "What we call the beginning is often the end. And to make an end is to make a beginning."
I am using this reference to describe my current state in trying to become a photographer worthy of that name, and not simply someone that lucks out in taking photos, i.e.hit or miss. That current state is, unfortunately, one of unsuccessful attempts to acquire a thoroughgoing process of conceptualizing, actually taking, then processing, and finally printing the photograph I had in mind when I stood in front of the scene before me with my camera. After several years of trying to acquire skills through reading, attending workshops, and then experimenting with different techniques, I am left unfulfilled and inchoate.
But fate has smiled on me, since I recently discovered an artist and teacher worthy of those titles. His name is Vincent Versace. After reading an interview of him and also an articled on processing black and while photos, I purchased his book, Welcome to Oz 2.0. It is the second revision of his original work, Welcome to Oz, but I would have to say that he has so much information and pearls of wisdom in this book that I feel that I have found a gold mine.
After recently hitting the nadir of photographic growth I believe that I have been saved by whatever guardian there is of photographers that watches over us.
I am posting a photo of no consequence subject-wise, but one I feel challenged me to use some of the ideas that Vincent Versace expressed. I used a gradient map to make a black and white photo of a misty morning. I chose this scene since it seemed to challenge me to understand and bring out the tonality that was before me. These are very simple concepts to the accomplished photographer but not to me, who was trained to think verbally, not visually.
The photo was taken in full color with a Canon 5 Ds, using a 16-35mm lens, f/2.8, @35mm, f/11, 1/250, iso 250. Conversion to BW done in Photoshop, Gradient Map, and denoised in DxO, and stylized in On1 Photo 10.