I have had the Photopills App for at least two years, and I have used various features of it (by the way, it is an app that is jammed packed with features and information; it really is the only app you need if you are a photographer, hands down). But I was somewhat intimidated on the more involved and powerful aspects of it, namely locating the Milky Way, Moon, and Sun based on certain geographical locations and times. So, I never used these more powerful features.
I finally relented and figured out how to use them by viewing the creative videos that Photopills has on its website. I was blown away at what I could accomplish with this tool (especially how I underutilized it).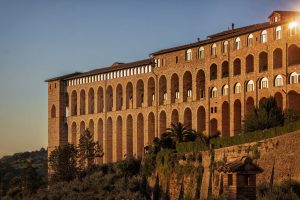 My scouting schedule for trying to set up different photo shots for foreground and astronomical events ( e.g., moon, milky way) was accurately filled in for the next year, and gave me a definite schedule for shooting potentially great shots.
The currently posted photo is a serendipitous shot of part of St. Francis Basilica in Assisi, Italy at sunset time. The colors of this part of Italy are unique, and I had wished that I could have captured more of them. But I will have to wait for more magical moments in the future, especially if St. Francis grants this prayer. The photo was taken with a Canon 5DS, EF24-105mm f/4L IS USM @ 105mm, f/10, 1/320″, post processed with ACR, DxO PhotoLab2, Color Efex Pro, and using a Gradient Map.