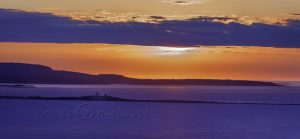 As I have expressed in recent blog posts, Maine has been quite a fruitful shoot and experience for me. I have spent much time and effort in trying to maximize the photo opportunities that I had had there (past perfect tense) during John Paul Caponigro's Workshop.
That being said, I believe that I am at the point of moving on. I am moving on for the photos that I took in Maine provided an opportunity to refine my skills, and they pushed me to do this simply because of the material of the shots that I took. The photographs may not have been my best but I learned a lot of critical skills in evaluating them.
The current photo was taken on the second day of shooting in Maine, 2019 at sunrise, near Sandy Beach, Acadia National Park. A Canon 5DS, with an EF100-400mm f/4.5-5.6L IS II USM lens @ 158mm was used, having settings of f/8, 1.8″, 320 ISO, and being post processed with DxO PhotoLab II, ACR, using HDR, and Viveza and Color Efex Pro.
If you follow my posts for this blog, you know that I approached a recent photograph workshop with John Paul Caponigro with a modicum of trepidation, putting it mildly. I have been acutely aware of my strengths and weaknesses as far as my photograph skills goes, and I knew that I was going to be challenged at JPC's workshop. I was not disappointed.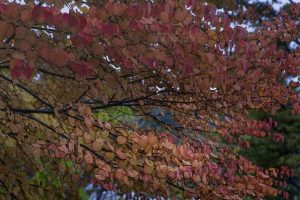 First of all, I have to say, that I divided the workshop into two halfs: one part getting up and putting oneself into the settings (4:00 AM; autumnal Maine, in this instance) to actually take the shots. This part was exceptional, for, indeed, we were up before the sun rose and placed in a setting that definitely had potentials for good to great shots; the other half was the actual class time of instruction. While taking the photos was difficult (especially in trying to be creative), the second part of the workshop was more difficult in trying to align oneself with the instructions and insights that JPC was giving. With honesty, I have to say that I tried my earnest to "be JPC" (as a Zen master would instruct), but I could only come to an approximation of maybe 50% (tops) to seeing the photo world as he does. That is fine with me, though, for I do not want to imitate JPC, but I want to capture the spirit and vision he has for great photographs.
At this moment, I know what a great photo is not. My next task is to dig into my creative spirit to find what a great photo is for me.
The currently posted photo was taken at the Azalea Garden in Acadia National Park. It was shot in the afternoon with a Canon 5 DS camera, using an EF24-105mm f/4L IS USM @ 105mm, f/7.1, 1/5″, ISO 125. Post processing was done using DxO PhotoLab 2, ACR, a Gradient Map, Viveza, and Nik Color Efex Pro. It is far from perfect, with only the lower half being in focus, but the colors were phenomenal.
…that is, John Paul Caponigro. Entering the rabbit hole one discovers CaponigroLand, a wondrous place of photographic discovery. Immediately you fall under the spell of seeing the world around you as you never have before. You are at once liberated and challenged as a photographer. Needless to say it is quite disquieting.
Thus began my photographic workshop in the Autumn of 2019, "Fall Foliage – Acadia." There were only seven students in all in the workshop; and may I add they were all accomplished in their respective professional fields, only one being related to photography in particular. The other students were avid photographers and were versed in the beauty and history of photography. It was surprising how each participant had particular skills and visions of how to represent what they saw through the lens.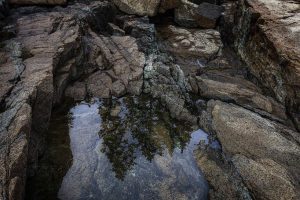 After five days of getting up at 4:30 AM to shoot multiple places in Acadia Park and adjoining areas, one felt stretched physically but also appreciative of the opportunities John Paul provided to get the most of what Maine provided. We hit Maine at the height of the fall foliage and had the unique experience to see the aftermath of a Northeastn' wind storm. Class time was a great shared learning atmosphere where each student had focused attention not only from John Paul but also other participants.
Time in the rabbit hole still resonates within, and I am still trying to process what I learned. After exiting CaponigroLand I am presented with the challenge to incorporate some of his visions or should I say adapt them to a new style of photography.
The currently posted photo was taken in Acadia National Park early on the first day of shooting. It was taken with a Canon EOS 5DS, EF16-35mm f/4L IS USM @ 28mm, f/16 1/10″, ISO 125. Postprocessing was accomplished with DxO Photo Lab 2, ACR, Photoshop CC 2019 using a gradient map, and Color Efex Pro.