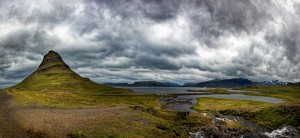 This is an image of Kirkjufell Mountain, west of Grundarfjordur, in Snaefellsnes, Iceland. But it easily could have been from J.R.R.Tokien's mythological land of Middle Earth or using his language from the myth, Endórë, because it presented as quite alien and unusual as compared to the work a day world in which we all live.
My recent adventure to Iceland in July was productive albeit challenging due to the weather. Because of the many water falls, volcanic activity or remnants of it, and the utter ruggedness of the countryside, there were multiple opportunities to capture winning photos, of which I did. Since that time I have spent time learning new post-processing technique to let my original raw photographs come to life.
This present posted photo is obviously a panorama, shot with a Canon 5 DS, a 24-105mm L lens, at 24mm, f/16, 1/640, and ISO 800. Post-Processing was accomplished with DxO Optics Pro, Adobe Camera Raw, and Photoshop.