Since coming back from my most recent journey to Portugal and the Douro River Valley, life has presented to me many personal challenges, testing my resolve on a day to day basis. Without going into detail these issues have resolved themselves and approximately a month later I have been able to spend more time on photography.
Portugal had left me disappointed in not only opportunities to captures shots, but also in my photographic technique in shooting. I had regressed in not being atuned to the technical aspects  (basic things as aperture, ISO, shutter speed, good posture for sharp photos) and I was lazy in this regard. One could argue that I had other things on my mind, as I had stated in my last post that simply shooting on a regular European tour presents a myriad of challenges not to be taken lightly.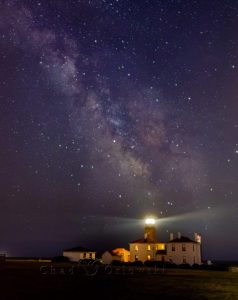 In any event, I knew I had to bone up and get back into photographic shape. I have tried to do this over the last week or so by attempting to photograph Beaver Tail Lighthouse (which was the third established lighthouse of the original 13 Colonies). It sits on an "island" (or peninsula) of Jamestown, RI. Needless to say, it is a remote area sitting far out away from the mainland and presenting an atmosphere where one feels attuned to the ocean, sky and elements. In other words, it is a special place of nature. However, it presents challenges since the lighthouse is quite bright in revolving (approx. 5″ on, 2″ off). Also, there is some light pollution, especially at this time of year (summer) since the Milky Way (my object of focus) sits in the SE sky where some light pollution exists.
I had tried photographing the lighthouse in the past and was disappointed since the light was too bright. I quickly realized I had to modify my technique. I had been strategizing on this over the last few months, and finally decided that I needed to just go out and shoot the dame thing. I did so the other night under conditions which I thought were perfect. The previous night I attempted to do this but the bugs of summer (July) were a bit much. So, the following night I put on my hiking bug resistant clothes and bug spray and tried again. It was quite a change since there was a stiffer breeze, clear skies, and moderate temperatures, so an enjoyable evening c. 11 PM presented itself to me.
It became apparent to me that I had to improvise on the basic procedure of shooting the Milky Way (I felt I understood the basic technique after shooting Kilauea Volcano in Hawaii at midnight last year). I used two techniques: 1. that proposed by Starry Landscape Stacker, and 2. the basic starry night technique  (c.25-30″ exposure, f/2.8. ISO 3200) but this time placing my hat on the lens when the lighthouse light turned towards me (c.2″). Both of these techniques had produced acceptable photos. I then tried using SLSS to process the "hat technique", and the results were also acceptable.
My gut told me, though, that I should simply use the basic technique, and that is what the current post is. That is, the shot was taken with a Canon 5DS, EF16-35mm f/2.8L USM @ 23mm, f/2.8, 15″, ISO 3200, post processed with Adobe Camera Raw, DxO Optics Pro 11, Nik Color Efex Pro.