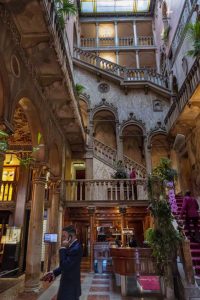 The visions of my visit to Venice in the fall of 2018 still haunt me. There are so many moments which live in my visual memory that I was unable to give substance to as far as a concrete photograph. Maybe this is the intentionality that was spoken of in philosophy of previous decades. That is, my mind intending and capturing the world (or object thereof) and trying to give meaning or form or some kind of representation to it. In other words, to capture this reality in some concrete form that the mind perceives in so-called immaterial ideas.
The above tries to describe the process of me trying to take a photo of a unique experience and then translating this into a printed form, viz. photograph. The great photographers have successfully accomplished this process from what their mind's eye has seen to what exists in their photographs. Every other aspiring great photographer is trying to imitate this process.
Venice was so unique and visually stimulating that it leaves one overwhelmed.
When in Venice I attempted to accommodate myself to its challenges, namely time of day, crowds, time pressure, unfamiliarity of surroundings. In other words, hit or miss "tourist photography."
The posted photo provides somewhat of a counterpoint to the maddening crowd of Venice. That is, the quiet and calm of one of the finest hotels in Venice, Hotel Danieli. The hotel exists in the heart of the most intense tourist activity of Venice, i.e. right off the Riva degli Schiavoni.
[As an aside to my above post, I must note that in viewing one of Kelbyone.com videos, I was struck by the fact that it was filmed at the Hotel Danieli. Be that as it may, it is nice to know that my membership fee in KelbyOne pays for this type of corporate benefit.]
In any event, I am pleased to a degree that I was able to capture Calm within Chaos in Venice.
The posted photo was taken with a Canon 5Ds, with a EF24-105mm f/4L IS USM lens @ 24mm, f/6.3, Exposure Compensation -1.33, 1/50″, 6400 ISO, post processed with DxO Photolab 2, ACR, DxO Nik2018 Viveza 2, and a Gradient Map.
While I still have not discarded the regret of not capturing my pre-trip imagined images that I would have taken (and, did not), I've come to the realization that that goal was quite difficult to achieve. Let me explain. The Italy trip that I had taken proceeded from northern Italy (Lake Como) to southern Italy (Sorrento) with intermediate stops in Verona, Venice, Ferrara, Florence, Siena, Montepulciano, Assisi, and Rome. All of this occurred within 14 days. On hindsight, this is a lot of geography packed into a short time period. Couple this with the fact that this was not a dedicated photo shoot(s), but a tour of over 30+ people with other interests other than photography.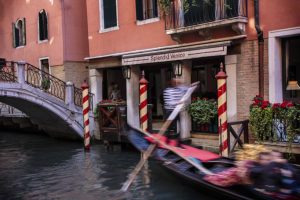 What the above tells me is that this recent trip was essentially a scouting vacation which exposed and allowed me to be able to zero in on future trip(s) to more adequately capture the spirit of Italian Wonder.
One of those future trip(s) definitely would be Venice, with Florence, Assisi, and Rome not far behind. Also, let's not forget Positano, as well as, Puglia. All of this is a great segway to the fact that Italy runs deep and true in its beauty and soul.
Venice, though, is the most visibly obvious example of Italian uniqueness and beauty. There is a draw and enchanting allure that defies expression. For myself, I want to explore and discover that vacuous spirit which seems to linger and then vanishes. I want to capture its uniqueness and passing presence.
The currently posted shot of Venice was taken with a Canon 5DS, using a EF24-105mm f/4L IS USM lens @ 47mm, f/8.0 1/5″, -0.67 exposure compensation, 100 ISO, post processed with Adobe Camera Raw, Photoshop CC using a Gradient Map, DxO Nik Color Efex Pro 2018.
Since my last post several months ago a lot of water has figuratively flowed beneath my bridge, with a fifteen day tour of Italy (Lake Como down to Sorrento), Thanksgiving and Christmas with all their attendant activities.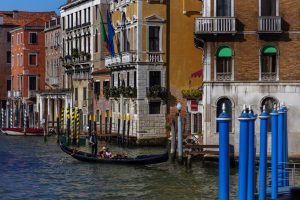 Photographically, I was quite busy processing the 2700 or so photos that I took in Italy. I thought I was prepared for the rigors of a group tour, since I preplanned and scouted (via internet) areas I would be visiting. The strategy was to take many more photos than I normally take, since this strategy would somewhat circumvent the fact that I would not be shooting under ideal conditions (e.g. little time to shoot, ill placed locations not under my control, etc.). What I was not prepared for were the massive crowds in all of the places I visited, even though this was during the off-season (viz., shoulder season). Also, a significant amount of time was taken up in traveling by bus, which cut down on shooting opportunities. One could also say that the crowds themselves were tiring, trying to navigate or avoid them.
I had high hope that I would have more photo opportunities than I did on the Italy sojourn, and I was disappointed the sparse amount of keepers. For some reason many shots were blurry or the settings were wrong, something I still am trying to figure out.
So, it has been a time of soul searching, trying to reload and regain the spirit of successful shooting.
The currently posted shot is obviously of Venice in mid afternoon. While crowded with boats, it was far easier to find scenes without mobs of people. It was shot with a Canon 5DS, with a EF24-105mm f/4L IS USM @ 105mm, f/4.0, 1/2000″, -0.67 exposure compensation, and 200 ISO, post processed using DXO PhotoLab, Adobe Camera Raw, with Photoshop CC, a gradient map, and Color Efex Pro.