I am adding to the theme developed in recent blog posts of shooting in difficult or variable elemental conditions. This was a constant challenge while in Yellowstone Park. There were so many contrasts but where to start or where to shoot created a quandary. By choosing one or two elements to compensate for one was eliminating the other equally desirable contrasts.
One such area of shooting was the many geysers, fumeroles, or simply hot springs. There was a lot of mist, haze, and steam in the air, all with mineral content. Protecting one's camera was a concern. Also, shooting to avoid the many groups of people constantly viewing the scenes was a challenge. Added to all of this was how and what to capture since it was a fluid landscape, either in the foreground or background. The added hard to accept fact was the realization that of the surrounding foliage and countryside was muted in colors, beautiful, but nonetheless muted.
This has led to doing more post-processing than I am usually used to, but again am open to try to understand different avenues of approach to the varying elements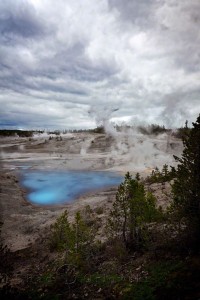 of the photograph. Consequently, I offer this blog post photo as an example. The first photo is unaltered as taken in situ at the Porcelain Basin which lies within the larger Norris Geyser Basin within Yellowston National Park. It is what the camera captured (f/13.0, 1/80, ISO 100, Canon 24-105mm/4L IS USM @ 24mm). The second photo has been processed through Adobe Camera Raw, denoised and tonally corrected (as well as corrected for haze using Clear View) thru DxO Optics Pro, and finally finished stylizing with OnOne Perfect Photo Suite 8. Within OnOne PPS 8 the sky's contrast was increased (as well as the geysers' steam plumes) using the Adjustment Brush, while using the same Adjustment Brush to warm up the background (Warm Filter), and cool the blue spring pool (Cool Filter). Finally, within Photoshop I darkened (actually blackened) the lower right corner using the Adjustment Level's Threshhold.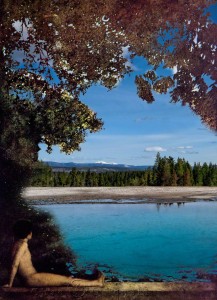 The blog post title is a take off on the words, mind meld, suggesting a sharing of two autonomous entities. Since taking Maxfield Parrish as my guiding spirit on this photo journey, I've been attempting to share visions with him.
The current photo composition is from Parrish's illustration in Italian Gardens; the background being that of the Turquoise Pool in Yellowstone Park. It is an attempt to learn the subtleties of his style and apply what may be compatible to my ongoing work.