I mustarded all the energy and creative drive within me to go out on a mid-winter's night to an island in the middle of Narragansett Bay to try to photograph a panorama of the Newport Bridge under the arch of the Milky Way. I had used the app PhotoPills to determine that the Milky would indeed be in this position as it had been. The trouble was that I was shooting to the northeast from Jamestown, RI Center which naturally had the background of Newport and the U.S. Naval Base which was brightly light affording a ton of light pollution to my ill-planned shoot (since I thought this would not be that much of an issue). It was!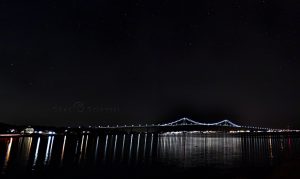 The other fact of my failed photo shoot was that I was shooting at c.2:30 AM with a 15º temperature. I thought I was well dressed for the elements, except I underestimated that my hands (not gloved) would be exposed for over an 1 1/2 hour time period. Needless to say, I panicked (to a degree) at that time (at the end of 1 1/2 hrs.) since I did not have any strength in my hands. Luckily by that time I had retreated to my car but still had trouble retrieving the car keys from my jean pocket.
Lesson learned. Do not underestimate the elements, as well as, pay attention to the shooting environment of your target figure (in my case, the light pollution of the city).
This posted panorama was taken with a Canon 5DS, using a Canon EF16-35mm f/2.8L USM @ 25mm with an f/2.8, 20″, ISO 160. These settings are a bit out of the ordinary for shooting the Milky Way but I was trying to adapt to the light pollution. So much so, that I even used a graduated 3-stop neutral density filter to deal with the light pollution. Post processing was done with DxO Photolab 2, Adobe CR, and Color Efex Pro 4.
Addendum: The photo above does not show the Milky Way simply because of my camera settings. At the very least the ISO should have been 3200, and a shutter speed of 20-30″ to capture the stars. I somewhat captured the bridge but at too great a cost of a successfully planned photo. In other words, details matter.