This month has been most productive as far as the Muses effecting change in my photographic soul (meaning, orienting and grounding my soul to those things most photographically meaningful). I have used the current ornithology phenomenon of the rare appearance of the Snowy Owl this far south of the Arctic Circle, to be the impetus for me to brave the elements and start honing my skills as a photographer.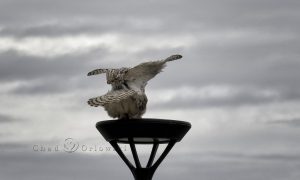 The Snowy Owl was first witnessed by me two weeks ago at Sachuest Point, RI. I had missed the most recent invasion of the Snowy Owl this far south two years ago, and I was determined not to miss it again. While I did catch this elusive emigre from the Polar regions when I visited Sachuest Point (a National Wildlife Refuge), this wary bird was perched on a rocky islet about 400 feet offshore, making a photo of any significance moot.
I was finally able to catch this elusive creature further up Narragansett Bay at a small promontory on the western shores of the Bay just south of Providence, where the Save The Bay (nonprofit) property is located.
The encounter of this owl tests the patience of mortal men (probably a survival tactic of the owl) since it literally would sit for an hour at a time in one place. I waited it out and was able to capture the currently posted photos, which in and of themselves are quite ordinary and lacking in sharpness. What the photos are not lacking in is "gesture", which as Jay Maisel notes is a critical element of any photo worthy of print.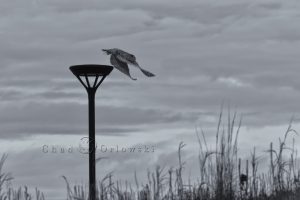 The first photo was taken with a Canon 5 DS, EF100-400mm f/4.5-5.6L IS II USM @ 278mm, f/11, 1/640″, ISO 250, post processed with DxO Optics Pro 11, and Nik Color Efex Pro. The owl was probably just fluffing its feathers after quite a spell of inactivity.
The second photo was taken with a Canon 5 DS, EF100-400mm f/4.5-5.6L IS II USM @ 278mm, f/11, 1/640″, ISO 250, and post processed with DxO Optics Pro 11, and Nik Silver Efex Pro.
The last 2-3 months have been difficult for me to get the right mindset for photography. After my trip to Germany in Spring where I took a ton of photos and a small minority were sharp and descent, I became disheartened as to why I still struggle with taking sharp photos. I even tried recalibrating my Canon lenses (24-105mm L; 70-200 L) but these appeared to be fine.
I lost faith in my Canon 5D Mark II and while this may sound trite I blamed it to a degree, even though I knew I also was at fault with poor technique. I had to find my way out of this state of dismay. Then I read about Canon's new 5DS camera which has 50 megapixels and was geared to take really sharp photos. I decided to get this camera by selling my 30D and 5D Mark II cameras, figuring that if I still got less than sharp photos the camera could not be blamed. In addition, the 5DS had other features which I could grow into,e.g., setting aspect ratio.
The photo in this post is of Point Judith Lighthouse in Narragansett, RI, taken on a mostly sunny day in mid afternoon summertime, less than the perfect shooting time advocated by professionals, but right up my alley (read post, Mixed Metaphor). I had taken several photos of this lighthouse getting used to my new camera, but this one was descent since clouds had rolled in to provide some shading to much of the seascape, but still keeping the lighthouse lit, so to say. Settings were manual mode, f22, 1/125, ISO 100; Canon 24-105 mm L @ 32mm. Little post processing was done to the photo. I believe the 5DS may be a keeper. Note: there are some slanting vertical "lines" in the blue sky between the lighthouse and white clouds; this is a result of the camera catching the sun's rays in the suddenly clouded/shaded foreground.