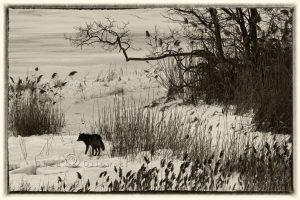 Whether I want to admit it to myself or not, the whole issue before us (myself, my loved ones, and the living creatures around me) is how to stay alive!
After 70+ years of life I have found that the most prominent element of what is around me is: staying alive. I have somewhat subconsciously realized this all of my life, but now it has reached critical importance. Probably because there is only so much time left for me to expend (?use up?). In other words, time is running short, as it were.
Okay. Maybe this is a bit over the top as far as blog dialog is supposed to go, but in the Winter of Our Discontent (read as God- Forsaken-Curse-of-a-Present-as-this) and as far as a Winter as hard as this (despite the denials of which the current President is saying regarding Global warming), then this is quite reasonable to say that I am in a phase of a somewhat gray-view of reality.
"So What!," says the countering voice within me. "Falling in Love is Miraculous. It is realizing this fact that is important.  I am in love with my wife. As always, I am involved with carrying on the process that I started when I was an infant, namely—living the wonders before me."
I shoot photography to capture/steal moments. Moments which exist within a fraction (sometimes) of a second, but which are revealing and transcendent.
The currently posted photograph was taken in early morning at the beginning of January 2018. Life has been harsh this year with frequent winter storms of snow and wind. I have been feeding the birds, but the larger animals are on their own. Hence, the coyote seaching for his breakfast meal. It's been hard for me watching this display of life trying to survive this winter: this ranges from Hawks killing other birds to survive to smaller birds fighting to get seeds from a feeder. That being said, the photo was taken with a Canon 5DS, EF100-400mm f/4.5-5.6L IS II USM @ 400mm, f/9.0, 1/500″, ISO 2000, post processed with Adobe Raw, DxO Optics Pro 11, gradient map in PS, and Silver Efex Pro.