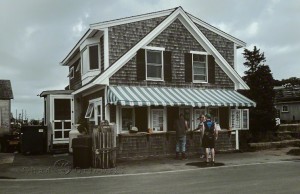 A coming of age movie came out in 1971 titled "Summer of 42". It was a captivating journey into what life was like in the summer on an island off the east coast of the US, narrated in the first person of a man who depicted what his life was like as a teenager visiting the island for the summer. Besides the movie's theme song, "The Summer Knows," what was more haunting was the scenery and mood created for that era. It was akin to a dreamscape, sometimes blurry, sometimes glowing, and sometimes dark.
I had the opportunity to spend two weeks on Chappaquiddick Island in the summer of 2015. Chappy, as the locals call it, is literally an island off the island of Martha's Vineyard. I had grand visions of capturing photos that would recreate that vision which the movie Summer of 42 created in my mind. [By the way, before my trip I also watched the movie "Jaws" (celebrating its 40th anniversary).]
Unfortunately, the opportunities which my Summer of 15 presented me were not equal to those visions and vistas in the Summer of 42. That's not to say I was not trying. For the record I forced myself to shoot exclusively in manual mode in all conditions. I was consciously aware of setting my Canon 5 Ds to what conditions were before me. These conditions ranged from handheld impromptu shots on the beach to shots with a tripod. There were long exposure shots (water, lighthouse, clouds), rapid movement (birds like the Black Skimmers flying inches above the wave, wind surfers), nighttime shot of the moon and milky way, wide angle shots, and closeups of people. I took a little over 400 shots, had several good, sharp photos, but really was only happy with one photo which I posted to the Gallery.
Despite the dearth of acceptable shots I did learn quite a bit. As an athlete must adapt himself to game conditions by only exposing himself to those games (the more experience the better he performs), so I learned that I must constantly be thinking. I believe I am conquering the sharpness problem I've had; all I need to do is master the lighting conditions.
The photo I'm posting with this blog entry (shot with an iPhone 5, not a Canon 5 Ds) is of Menemsha Galley in the small village of Menemsha in the town of Chilmark, Martha's Vineyard. This is the area filmed in the movie Jaws. By far, it is the most quaint area on Martha's Vineyard, but not the only  pictureque.  If I ever mature in photography I should find more shots in the future on that dreamy island off the coast of Massachusetts.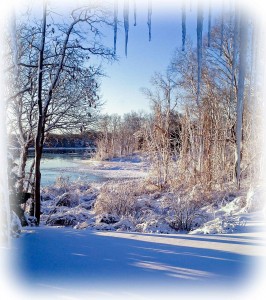 Since my last post snow has arrived on the cove. The photo on the right is actually from mid winter 2012-2013, but it is added now in the spirit of the season– Christmas and all.
This is an iPhone 4 shot, and is far from as sharp a photo I really would like to have taken. But, the iPhone was easily available to capture this opportune  moment in early morning. I find most of my iPhone photos to lack crispness. I may have a problem with technique, but often I feel it is that the lighting conditions just are often not conducive to the settings on the iPhone.
As with my last photo post I used Perfect Photo Suite 8 to enhance the shot. I'm finding that PPS works best for me as a standalone program rather than a Photoshop add-on (i.e., used from within Photoshop). Often I have a difficult tome figuring out what module I am in in PPS, and what will be saved after I experiment with different effects, etc. I also wish that PPS would be a bit more precise in saving what effects and enhancements I used when I return to previous levels saved by PPS; rather than just stating "Enhancement" for a level, for example.