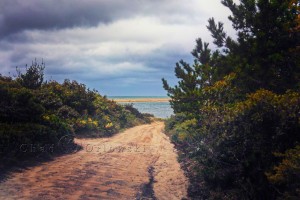 The year was 1974 and both my good friend and I were totally enchanted by Martha's Vineyard, and for good measure, Chappaquiddick Island. Remember, the movie Jaws was recently released, so images of adventure and the sea ran rampant with our generation.
We had the good fortune to be able to take a short trip to the Vineyard in early fall. We disembarked in Vineyard Haven and proceeded to rent bikes to see the Island. As luck would have it we rode along the sea bike trail between Vineyard Haven and Edgartown. Both of us were overcome with the land and sea scapes. When we arrived in Edgartown we decided to take the Chappy Ferry across the channel. As memory would have it, we rode to the very end of the rode on Chappy until we hit a dirt rode and then we walked our bikes. Then the vista of the sea and beach met our eyes. The vision was seared into my memory and I always wanted to relive it. A desolate and sun drenched stretch of land and sea.
Fast forward to 2015 when my wife and I decide to visit Chappy. This is a photo I took along the "road" where our cottage stood. The location was hauntingly familiar, for, I believe, it was the same vision that came before me 41 years earlier.
The photo was taken on a Canon 5 DS, 70-200mm f/4 lens, @ 70 mm, f/4.5, 1/640, ISO 1000. Post processing occurred with DxO Optic Pro, Adobe Camera Raw, Perfect PhotoSuite 9, a gradient map, and Nik Color Efex Pro 2.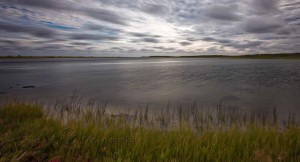 It has been a struggle recently to engage in photographic creations. I must be going through a transformation of schemata in what I want or want to see in the world around me. Since the range of these schemata or modes or ways of visualizing what is before me is infinite, I must rely on my deepest intuitions to non verbally grasp them and bring them into the light of conscious thought.
The tactic I have chosen to accomplish this, at least at this particular time, is to review my most recent photo shoots, and try to pull from them elements that I find attractive. In other words, I find the living moment of actually taking a photograph  to be too challenging to focus on exactly what I want. If I may impose an analogy it would be that of a football quarterback who is a rookie versus a quarterback of pro standing. For the rookie time moves too quickly, for the pro time moves slowly. So, only on reflection can I acquire what I want; the lived moment is too fading to control.
That being said, I am still at a loss as to what my spirit or photographic eye really sees. It appears that I am drawn to the shadows. If shadows do not exist, I want to create them.
Also, I found that on my Chappaquiddick photo shoot that I had to compensate again in post processing what was lacking in optimal conditions while on the island. It was very windy and lighting was unpredictable.
I found that my long exposure shots were salvageable, especially of subjects as coastlines, sky and water. One shot drew me to often revisit it simply because of the grass. It seemed the long exposure of the grass in the particular light created an oil-paint-pallet. I stayed with the grass with that paint-like effect and kept the water more contrasted and the sky even more so in On1 Photo 10 software program. The final posted photo is of Katama Bay. The camera was a Canon 5 Ds with a Canon EF 16-35mm f2.8L lens @ 16mm, with settings of f/16 and speed of 36 seconds, ISO 100.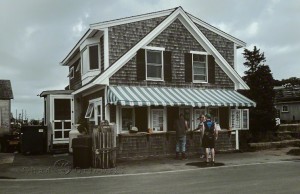 A coming of age movie came out in 1971 titled "Summer of 42". It was a captivating journey into what life was like in the summer on an island off the east coast of the US, narrated in the first person of a man who depicted what his life was like as a teenager visiting the island for the summer. Besides the movie's theme song, "The Summer Knows," what was more haunting was the scenery and mood created for that era. It was akin to a dreamscape, sometimes blurry, sometimes glowing, and sometimes dark.
I had the opportunity to spend two weeks on Chappaquiddick Island in the summer of 2015. Chappy, as the locals call it, is literally an island off the island of Martha's Vineyard. I had grand visions of capturing photos that would recreate that vision which the movie Summer of 42 created in my mind. [By the way, before my trip I also watched the movie "Jaws" (celebrating its 40th anniversary).]
Unfortunately, the opportunities which my Summer of 15 presented me were not equal to those visions and vistas in the Summer of 42. That's not to say I was not trying. For the record I forced myself to shoot exclusively in manual mode in all conditions. I was consciously aware of setting my Canon 5 Ds to what conditions were before me. These conditions ranged from handheld impromptu shots on the beach to shots with a tripod. There were long exposure shots (water, lighthouse, clouds), rapid movement (birds like the Black Skimmers flying inches above the wave, wind surfers), nighttime shot of the moon and milky way, wide angle shots, and closeups of people. I took a little over 400 shots, had several good, sharp photos, but really was only happy with one photo which I posted to the Gallery.
Despite the dearth of acceptable shots I did learn quite a bit. As an athlete must adapt himself to game conditions by only exposing himself to those games (the more experience the better he performs), so I learned that I must constantly be thinking. I believe I am conquering the sharpness problem I've had; all I need to do is master the lighting conditions.
The photo I'm posting with this blog entry (shot with an iPhone 5, not a Canon 5 Ds) is of Menemsha Galley in the small village of Menemsha in the town of Chilmark, Martha's Vineyard. This is the area filmed in the movie Jaws. By far, it is the most quaint area on Martha's Vineyard, but not the only  pictureque.  If I ever mature in photography I should find more shots in the future on that dreamy island off the coast of Massachusetts.