During this historic Covid-19 Pandemic it has been a chore to maintain any semblance of normality regarding usual daily routines. Basically, what is foremost in the minds of Rhode Islanders is to stay ALIVE and HEALTHY, despite what the so-called president and the rest of the nation is doing. I am proud to be a Rhode Islander and a citizen of the 13th State, and commend our Governor, Gina Raimondo, on her job of keeping us healthy and functioning.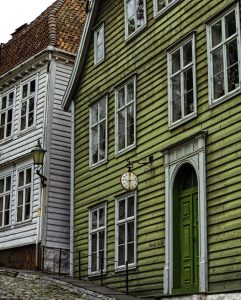 That being said, one of the major focuses for me during this Covid-19 self guaranteeing has been to increase my photo skills. Luckily, I have been able to do this having John Paul Caponigro's instructional DVDs to learn from. I wish I had discovered them ten years ago or longer for they have really sharpened my understanding of the process of and practical application of photographic techniques.
Since I am a Johnny-Come-Lately to this area of artistic expression in photography, I've had some catching up to do, but I do the best I can considering my handicaps. While my photos have improved, relative to what I had been doing, they are still a long way off to where I would like to take them—this zone of uncertainty is both confounding and energizing for I have to discover exactly where I want to go with my photographs. But, that is where I am at, at this particular junction of creative expression.
The currently posted photo is of Bergen, Norway in an historic area of the city. I tried to capture the atmosphere and style of the city lines and colors. The photo was taken with a Canon 5DS, using an EF24-105mm f/4L IS USM lens @ 65mm, f/8.0 @1/500, with an ISO 125, post processing with DxO PhotoLabs2, ACR, and PS 21.2.