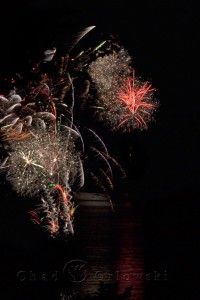 One of the prime motivators for this post is not necessarily New Year's Eve but the fact that it is New Year's Eve in the 67th year of my life. In other words, I can no longer deny the fact of aging, despite the reality that I am in good health, physically and psychologically. I know this because of a core of happiness within but also from the realization that many of my generational cohorts have not had such success or fortune. I count myself blessed in this regard, and am not stating this to boast.
I would like to state that this photo is of New Years but it was taken in July 2014 while watching the intermittent fireworks across Narragansett Bay. I used the bulb setting on my Canon. The photo is actually a compilation of many individual photos. I loaded the lot of them into Photoshop all on individual layers and then used the blending mode of Lighten to only show the light of the fireworks themselves and nothing else (note that also the reflection on the Bay was captured which I thought enhanced the shot).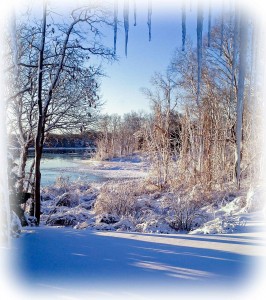 Since my last post snow has arrived on the cove. The photo on the right is actually from mid winter 2012-2013, but it is added now in the spirit of the season– Christmas and all.
This is an iPhone 4 shot, and is far from as sharp a photo I really would like to have taken. But, the iPhone was easily available to capture this opportune  moment in early morning. I find most of my iPhone photos to lack crispness. I may have a problem with technique, but often I feel it is that the lighting conditions just are often not conducive to the settings on the iPhone.
As with my last photo post I used Perfect Photo Suite 8 to enhance the shot. I'm finding that PPS works best for me as a standalone program rather than a Photoshop add-on (i.e., used from within Photoshop). Often I have a difficult tome figuring out what module I am in in PPS, and what will be saved after I experiment with different effects, etc. I also wish that PPS would be a bit more precise in saving what effects and enhancements I used when I return to previous levels saved by PPS; rather than just stating "Enhancement" for a level, for example.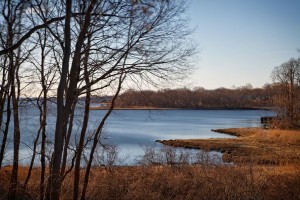 This photograph is actually a confluence of three thematic interests. Copying Joel Meyerowitz's approach in his book, Cape Light, I have been taking shots of the cove in my back yard in upper Narragansett Bay. If I were enterprising I would title my collection of these shots, Narragansett Bay Light. That may or may not happen.
However, this shot was my first attempt at long exposure photography using a neutral density filter from Heliopan ND 3.0 (10 stops). I would have liked to have had clouds but then the water would not have been so blue.
Finally, the shot was enhanced using OnOne Perfect Photo Suite 8, to which I had just upgraded. Having used Photoshop for years, getting used to the workflow of PPS 8 takes some getting used to, even though about 80-90% of the interface is the same as Photoshop. This does not mean PPS 8 has the same tool set and precision; it does not. This is not bad or a knock against PPS 8; it's just that PPS 8 is about doing something different. Each program has their place. Right off the bat I find OnOne's software more fun to use. I feel a little guilty doing this because to do the same thing in Photoshop would take a lot longer and involve a different level of skills. For this cove photo I used matt Kloskowski's presets in the Effects module of PPS 8. Obviously, OnOne has packed their Suite 8 software with a host of tools, and each with its own set of adjustments. Some of these I will probably use regularly, while others will just languish.
With the prospect that I may not be upgrading any more to Photoshop due to Adobe's stance on monthly fees for their software (I disagree with this type of money stream), having tools as contained in PPS 8 provides a viable option.