New Years à la July 4th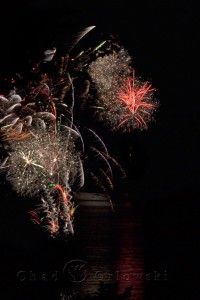 One of the prime motivators for this post is not necessarily New Year's Eve but the fact that it is New Year's Eve in the 67th year of my life. In other words, I can no longer deny the fact of aging, despite the reality that I am in good health, physically and psychologically. I know this because of a core of happiness within but also from the realization that many of my generational cohorts have not had such success or fortune. I count myself blessed in this regard, and am not stating this to boast.
I would like to state that this photo is of New Years but it was taken in July 2014 while watching the intermittent fireworks across Narragansett Bay. I used the bulb setting on my Canon. The photo is actually a compilation of many individual photos. I loaded the lot of them into Photoshop all on individual layers and then used the blending mode of Lighten to only show the light of the fireworks themselves and nothing else (note that also the reflection on the Bay was captured which I thought enhanced the shot).