In my ongoing endeavor to increase my nascent photo skills I decided to take a p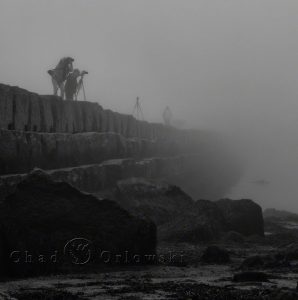 hoto workshop offered by Canon Professional Services. Not many of these workshops are offered on the east coast so it made sense to immerse myself within some serious training and critiquing while I had the chance.
The workshop took place in Rockport, MA and the surrounding Gloucester area. However, the weather for mid September did not cooperate, and it was more like mid August with high temperatures and humidity to go with it. Rain was always a threat, and the night sky was not clear for star shooting.
Nonetheless, the workshop made the most of the circumstances with intense in-class training. The whole group of us was up at 5 AM each day, and out again to shoot at sunset. At times I felt we were in basic training maneuvers jumping in and out of SUVs to find optimal photo areas based on the conditions, which were always in flux.
Happy to say this type of exposure to learning was what I needed to continue my journey to creating finer photos. Luckily the class members were congenial and quite talented, each taking some wonderful photographs themselves.
The photograph on the upper right was taken around 6 AM at Eastern Point Lighthouse, Glouchester, MA. The shifting fog made it difficult to find perspectives on the lighthouse itself and other items of interest on the shore. I tried to incorporate what was stressed in class in this particular shot. It was shot with a Canon 5 DS, EF24-105mm f/4 IS USM lens @ 47mm, f/18, 0.4″, ISO 100, with a Gitzo tripod, and RRS ballhead.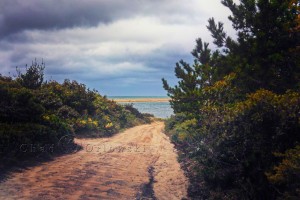 The year was 1974 and both my good friend and I were totally enchanted by Martha's Vineyard, and for good measure, Chappaquiddick Island. Remember, the movie Jaws was recently released, so images of adventure and the sea ran rampant with our generation.
We had the good fortune to be able to take a short trip to the Vineyard in early fall. We disembarked in Vineyard Haven and proceeded to rent bikes to see the Island. As luck would have it we rode along the sea bike trail between Vineyard Haven and Edgartown. Both of us were overcome with the land and sea scapes. When we arrived in Edgartown we decided to take the Chappy Ferry across the channel. As memory would have it, we rode to the very end of the rode on Chappy until we hit a dirt rode and then we walked our bikes. Then the vista of the sea and beach met our eyes. The vision was seared into my memory and I always wanted to relive it. A desolate and sun drenched stretch of land and sea.
Fast forward to 2015 when my wife and I decide to visit Chappy. This is a photo I took along the "road" where our cottage stood. The location was hauntingly familiar, for, I believe, it was the same vision that came before me 41 years earlier.
The photo was taken on a Canon 5 DS, 70-200mm f/4 lens, @ 70 mm, f/4.5, 1/640, ISO 1000. Post processing occurred with DxO Optic Pro, Adobe Camera Raw, Perfect PhotoSuite 9, a gradient map, and Nik Color Efex Pro 2.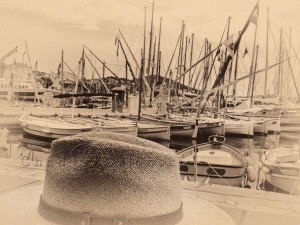 The year has been productive as far as changes within my style and understanding in what I am doing with photographs. It's been an interesting display, for me, at least, between the right and left sides of my brain. The right side seeking form and creativity, and the left side begging for order and direction. Luckily there has been an amicable compromise between the two and my shooting and processing has taken on more of a creative direction, which was aimless in the recent past.
I have revisited several of my photos of years past and have tried to look at them afresh and see what I would do with them in my current state of creative flux. The current post is of Sanary-sur-Mer, France  where I was dining at the time a few years ago. Of course I had on my de rigueur  Panama hat which I bought in Sorrento, Italy, so I felt quite International (although I doubt this is how I actually appeared).
The south coast of France on a sunny late Spring Day. This is what I imagined I wanted to capture in my photo. I had tried to do this in the past and had failed, but with my last attempt I believe I came close to the mark, if, nothing more than with nostalgic, halcyon type of overtones.
The photo was taken on a Canon 30D, 24-105mm, f/4L IS lens @ 24mm, f/22, 1/400, ISO 1600. It was an unusually noisy and dirt prone camera which I have since parted company. However, I always wanted to capture that special sense of place there in France at the sea port. This I believe I approximated using DxO Optics Pro 11 and Nik Silver Efex Pro 2 (Antique Plate preset) in post processing.