Into The Rabbit Hole with JPC…
…that is, John Paul Caponigro. Entering the rabbit hole one discovers CaponigroLand, a wondrous place of photographic discovery. Immediately you fall under the spell of seeing the world around you as you never have before. You are at once liberated and challenged as a photographer. Needless to say it is quite disquieting.
Thus began my photographic workshop in the Autumn of 2019, "Fall Foliage – Acadia." There were only seven students in all in the workshop; and may I add they were all accomplished in their respective professional fields, only one being related to photography in particular. The other students were avid photographers and were versed in the beauty and history of photography. It was surprising how each participant had particular skills and visions of how to represent what they saw through the lens.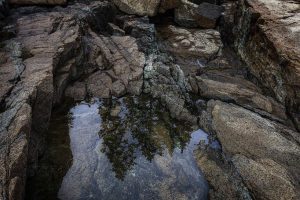 After five days of getting up at 4:30 AM to shoot multiple places in Acadia Park and adjoining areas, one felt stretched physically but also appreciative of the opportunities John Paul provided to get the most of what Maine provided. We hit Maine at the height of the fall foliage and had the unique experience to see the aftermath of a Northeastn' wind storm. Class time was a great shared learning atmosphere where each student had focused attention not only from John Paul but also other participants.
Time in the rabbit hole still resonates within, and I am still trying to process what I learned. After exiting CaponigroLand I am presented with the challenge to incorporate some of his visions or should I say adapt them to a new style of photography.
The currently posted photo was taken in Acadia National Park early on the first day of shooting. It was taken with a Canon EOS 5DS, EF16-35mm f/4L IS USM @ 28mm, f/16 1/10″, ISO 125. Postprocessing was accomplished with DxO Photo Lab 2, ACR, Photoshop CC 2019 using a gradient map, and Color Efex Pro.