This title is somewhat apocalyptic but as a photographer it is realistic in so far as some photos make the cut and some do not. In the process of culling photos to be or not to be acceptable, I try to save as many as possible by looking them from as many perspectives or artistic angles as possible, given my God given talents.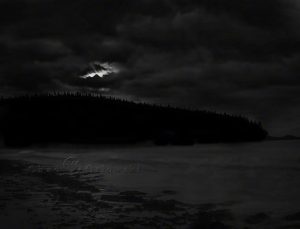 I believe that the currently posted Blog photo had merit and I tried to save it, but alas, I know I did not. I simply did not capture the essence of light that was present at the moment of capture, and consequently did not have enough pixels to work a miracle.
This photo was taken in my Autumn Adventure into Maine á la Caponigroland. Up before dawn, and with little light, I tried to capture those magical moments with a mechanical camera to try to match my living view of what I was experiencing. Alas, as in most cases, I did not achieve my goal.
At some point all of the incredibly myriad amount of  details will collalese into a perfect photo that I will have command of and I will have the perfect photo of what I see. That is what haunts me and propels me to continue shooting.
The currently posted photo was taken at Sandy Beach in Bar Harbor, Maine., with a Canon 5 DS camera, EF16-35mm f/4L IS USM @35mm, f/8, 18″, ISO 50. Post processing was done using DxO Photo Lab 2, ACR, Viveza, Efex Pro, Photoshop using a Gradient Map, and adjustment for lighting and banding.